---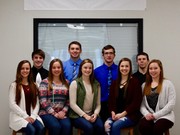 Katrina Gotschall
Front Row: Mikayla Marvin, Nikki Gotschall, Julia Bauer, Aurora Gutshall, and Gabby Scott. Back Row: Jared Hammerlun, Alex Thramer, Nathaniel Jennings, and Cauy Shaw. Not pictured: Wyatt Liewer
---
Frolics Candidates
The O'Neill High School Frolics Dance will be this Friday, January 12. The Senior King & Queen candidates have been announced. Coronation will be at 9:15 pm.
Queen Candidates are: Julia Bauer, Nikki Gotschall, Aurora Gutshall, Mikayla Marvin and Gabby Scott.
King Candidates are: Jared Hammerlun, Nathaniel Jennings, Wyatt Liewer, Cauy Shaw and Alex Thramer.